Description
Panasonic V380 Full Spectrum Camcorder
Panasonic V380 Full Spectrum Camcorder With 90x Ultra Zoom Ideal For Ufology / Sky Watching. The Camera Also Has A Wide Lens Ideal For Ghost Hunting and Paranormal Investigation.
The Camcorder Has The Latest Multi Camera Feature, Allowing You To Connect And Record Two Smartphones Via The Devices Wifi. The Smartphone Images Are Recorded Picture In Picture As Shown Below. See The Movie At The Bottom Of The Page To See More.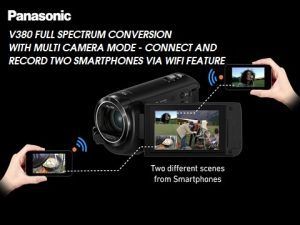 The V380 Boasts A Wealth Of Features…
Wifi / Nfc Connectivity – Connect To The Recorder With Your Smartphone, Achieve Additional Control Of The Camcorder
90x Intelligent Zoom – The Gallery Images Show The Full Potential Of The Zoom. On Par With The Nikon P900 At An Amazing 90x I Zoom. Excellent For Sky Watching / Ufo Hunting.
The Camcorder Is Great For Paranormal Investigation, Simply Pair It With Your Ir
Illumination And You Are Ready To Go.
This Camera Has Been Modified To Full Spectrum Meaning That It Is Ready To Be Paired With IR Illumination For Night Vision Use.  As Such It Will Not Take Standard Coloured Images Unless Paired With A Colour Correction Filter.
The Following Modification Can Be Added At The Time Of Purchase.  Please Locate This On The 'Accessories' Page If You Would Like To Take Advantage Of This Feature.
Click The Following Movie To See The V380 Multi Camera Mode In Action. In The Example A Low Power Illuminator Was Used And The Camera Was Locked Off Facing A Window. We Then Walked A Fair Distance Away From The Camera Recording The Rear Of The Building. The Sound Has Been Cropped From The Movie Intentionally. Sound Will Be Recorded From The Camcorder.