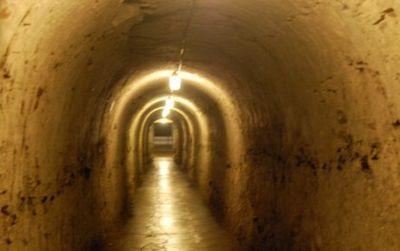 It is in these these underground chambers at Fort Widley that most of the paranormal activity is said to have been experienced.
Ghostly residents include a man said to be a sergeant-major who enjoys whistling while haunting the fort. The old sergeants' mess is reported to be a very intimidating area to visit now.
The keep of the fort is another area where there have been reports of ghostly footsteps and bangings are often heard. These are said to be made by a former prisoner, or possibly a prison guard.
There are reports of the spirit of a little boy haunting the tunnels that run deep beneath the fort. It is said that he was a drummer and was being pursued along the parade ground by a superior officer, having been disobedient, and fell to his death down the spiral staircase.
Rapid footsteps have been heard running along the tunnels and, apparently, he often plays games.
Ghost hunters have detected a very dominant male spirit and say they feel a sense of foreboding when he approaches. He has been sighted walking with a lantern and peering over people as a 7ft (2.13m) tall dark shadow.
A female spirit is said to be the wife of one of the married couples that resided at the fort or one of the prostitutes that came up to the fort to cater for the male occupants.
The story says she was murdered there and her tormented spirit is always trying to flee her aggressor. It is also said that she looks after the spirits of the children found within the tunnels.
Thanks to https://paranormalpastimesghosthunting.co.uk for providing the following footage taken using a camcorder an infrared setup from our ghost hunting store, https://infraready.co.uk
Filming at night in tunnels is very challenging as light dissipates into the infinite darkness of the tunnel.  Positioning the IR illuminator to get the best footage is essential, so we always suggest aiming the IR uo a little or to the side so that the light bounces off the tunnel walls.
This clip is part of a 20 minute video taken by Paranormal Pastimes with an IR camera from Infraready.co.uk. Whilst hearing the children's voices two of the team searched the tunnels and above ground but could find no one.