Entering the Unknowns Webiste – Click Here
The latest partnership in the Ghost Hunting Community Infraready.co.uk has formed is with 'Entering the Unknown' Paranormal;
Jacqui Duncalf
Co-Founder, Co-Owner, Spirit Medium
"I'm a Spirutalist Medium, I've been seeing and communicating with spirit sinse the age of three, I lost interest after the death of my 12yr old daughter as I couldn't concentrate, the time felt right to start doing what I've loved doing most of my life and like David said no matter what happens Ghost Hunting will always be a Team effort".
Dave Harazny 
Co-Founder, Co-Owner, Lead Investigator
"I got interested in the paranormal in my late 20's while watching programmes on the tv, my interests grew when more and more paranormal programmes came onto the tv, so in 2017 me and Jacqui sat down had a chat and decided to start our own paranormal investigation team up, we went through a few names to call the team and eventually agreed on our now brand name Entering The Unknown Paranormal.
We put an advert out on face book for anyone interested to contact us, we had quite a few responces and we chose 4 people, some fell by the wayside pretty quickly and some stayed for 12 months, but no matter who comes and who goes, ghost hunting is always and always will be a TEAM effort".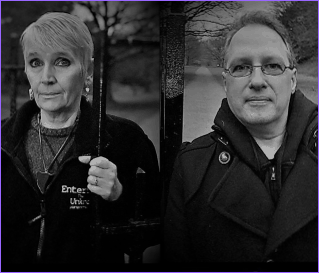 Andy at Infraready.co.uk sends his thanks to Jacqui and Dave for their support so far and is looking forward to seeing some excellent footage of a Portable Kinect SLS Stickman Tablet built by Infraready.co.uk over at Marbury Park.